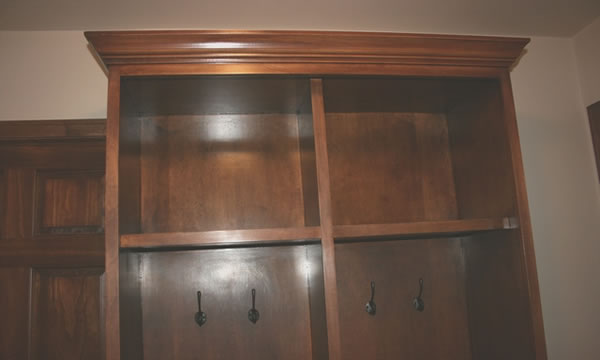 Custom Carpentry is one of Abel Complete Constructions signature services. Custom Carpentry in your home or business is a decorating enhancement that really adds an extra level of class and personalization to your home, and a true craftsman always loves to be able to work on custom wood carpentry projects that will be showcased and enjoyed by your family, friends or customers for many years to come.
Custom Carpentry is a great way to get the features you've always wanted to have in your home but could never find exactly what you needed in stores, or anyone who could provide it for you.  Maybe it's that custom book shelve you've always wanted or a special closest organizer.  Maybe you'd like a custom bar for your basement or some custom wood archways in your home.  The list is endless and Abel Complete Construction can build you almost anything you'd like for your home or business.
Custom Carpentry gives us the opportunity to build something visual that will truly be appreciated by the homeowner and help them make themselves a better, more organized and classy looking home.
Here Are Some Custom Carpentry Projects We Can Do:
Custom Shelving Units.
Custom Moulding and Trim.
Custom Wood Decorative Features.
Wood Banisters and Railings.
Interior Doors
What Did YOU Have In Mind?
We'd be happy to listen to you about your potential project, offer some tips, advice and professional perspective along with  a Free Estimate for us to build it for you.  Let us do it right for you the first time!  If you're a homeowner seriously wanting a change and you're ready to start speaking with potential contractors for your kitchen remodeling project, please give us a call or fill out our form to request your estimate.